The movie
Stardust
came out three years ago. I was hesitant at first, being a natural born skeptic towards fantasy. Sure, I'd read all the Harry Potter books multiple times. I had also forced myself through
Lord of the Rings
, though I prefer the movies (shame on me). I might even have read a few more fantasy books and certainly watched several other fantasy movies, and it is safe to say that I enjoyed both. But I was nevertheless convinced that fantasy wasn't my thing. So Neil Gaiman shouldn't be either.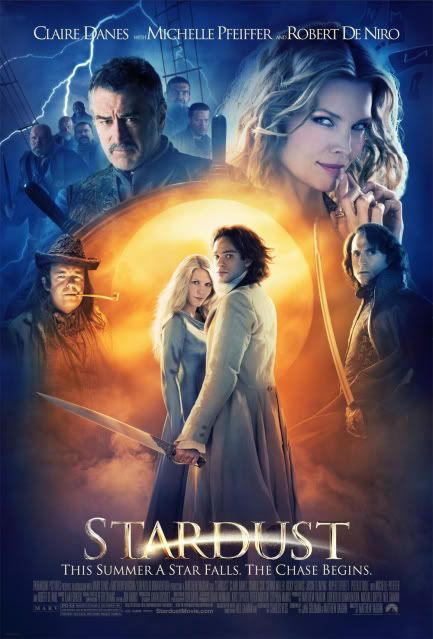 I went to see the movie anyway, and I loved it. Of course. I have yet to hear someone who has seen that movie claim that they didn't enjoy at least one aspect of it – Robert De Niro's part. I'll get back to that in a bit. But Stardust has more than Oscar winning actors going for it – it is a fairytale adventure with love, sword fights, fantastic creatures, magic… Basically, it has all the splendor it takes to make an epic movie.
Since I loved the movie so much, I was definitely hesitant to read the book. I
almost always
love the book better than the movie whenever I get the chance to compare, and I didn't want what I assumed would be an awesome book to ruin what was soon becoming my favourite "feel good" movie. Thus I avoided the book for a long time, even though several of my friends read it and loved it.
I had come to the conclusion, however, that I might not be as opposed to fantasy literature as I had led myself to believe. Thus I asked a good friend of mine (who is an avid fantasy fan) to recommend a book within the genre. Her suggestion was Neil Gaiman's
American Gods
. Now,
American Gods
may not be your typical fantasy novel, but it sure is a very good novel. After having read it, I was convinced that I wanted to read more of Gaiman's books, and so I read
The Graveyard Book
(which I loved), and
Fragile Things
(which was okay, but I have never been fond of short stories). I still avoided
Stardust
. The book, that is. The movie I've seen a number of times.
Then, a few weeks ago I was in the market for a nice and friendly read. I went to a bookshop and the book that stood out from all the rest I looked at, was, indeed
Stardust
. I decided to give it a chance after all, hoping that I wasn't ruining one of my favourite movies. As it turns out, I wasn't.
Neil Gaiman did not write the script for
Stardust
the movie, but he was involved in the process. The movie still has Gaiman's fingerprints all over it, but there were made certain changes both in plot, structure and characters. Being so familiar with the adaption I had a hard time not comparing the book with the movie when reading. Usually it goes the other way around. You watch a movie after having read the book, and you flinch at every detail the movie makers changed. This time I flinched whenever there were details in the original book that mismatched with the movie adaption.
One thing that threw me off was the ending. I knew that the book had a different conclusion than the movie, but it was
different
different. That's all. I'm not going to say
what
made it different, or
why
this made me unhappy (I'm going to allow you the courtesy of watching the movie and read the book yourself, and then figure out which ending you preferred. See how nice I am?).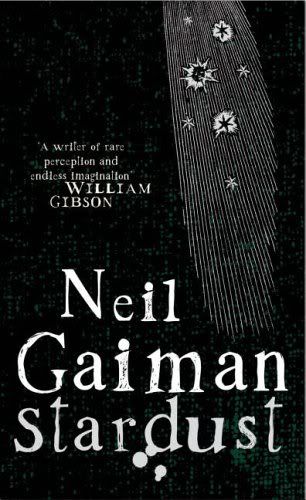 Another thing that bothered me with the book was the action sequences. Or lack thereof. Now, I know this is a format thing. It is WAY easier to make a great action scene in a movie where you have all sorts of fancy effects (including
sound
), than it is in a book. It might even be argued that the failure here is my ability to picture what I read and not Neil Gaiman's lack of action writing skills. My guess, though, is that it is neither. I don't think Gaiman incapable of writing a good action scene, but I think he deliberately chose not to. Stardust the book is not packed with action. The movie is. Both are results of conscious decisions. Gaiman deliberately made the book a little less packed with action, a little more filled with philosophy. However, to me it worked better in the movie. As shallow as that may sound, I missed the swordplay and explosions when reading the book. It was simply too slow-paced for my liking. I don't have a general grudge against slow-paced books, but in this case I knew what the alternative could (should?) have been.
The final point I will adress which separates the book from the adaptation, and which is another major reason why I prefer the movie, has to do with one of the characters. According to the "Making of" video on the DVD, Captain Shakespeare is an invention of Neil Gaiman's. But he is not in the book. Robert De Niro's performance as the pirat captain makes it worth watching the movie alone. Stardust without Captain Shakespeare is like Harry Potter without Dumbledore. Just. Not. The. Same! I realize that Captain Shakespeare without Robert De Niro would not have been the same either, so in this instance the book was bound to loose even if this character had been included.
The bottom line is that I preferred the movie to the book. Partly because I saw the movie first, but probably even more because there were elements in this story that made it better told in the medium of a movie and not in a book. My verdict, then, is that if you are looking for a feel good love story, you should watch Stardust. If you are looking for a great book, you should read American Gods.